Are you looking for an unexpected way to decorate your front porch for a party this fall? Balloon garlands aren't just for showers and birthday parties! Dress up a balloon garland kit with a few fall embellishments to create an elegant entry for a dinner party, wine tasting, or for your Thanksgiving feast!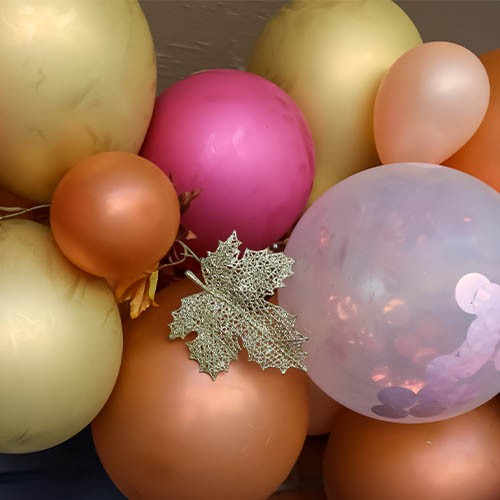 Supplies You NEED:
Air-Filled Pink & Gold Balloon Garland Kit
Balloon Pump
Glittered Fall Maple Leaves
Monofilament (fishing line)
Silk fall leaves
Valuable Time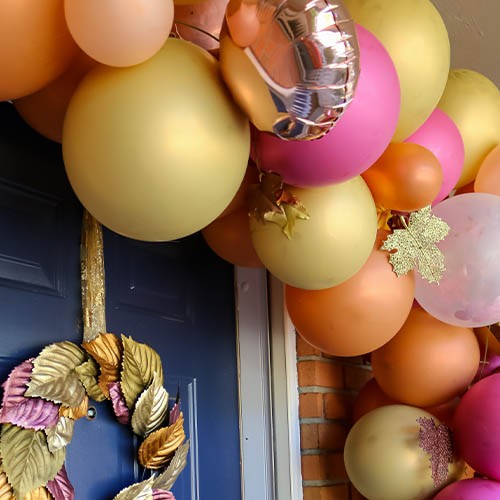 Balloons All Over Balloon Garland Kits take the guesswork out of DIYing a balloon garland. The kits contain balloons in a variety of colors, sizes, shapes, AND finishes. It's this variety that takes the garland from whimsical to elegant.
Begin by inflating all of the latex balloons with the use of the balloon pump. I used the manual pump, but an electric balloon pump will make the job go even faster. You will need to inflate the foil balloons up by blowing through the included straw.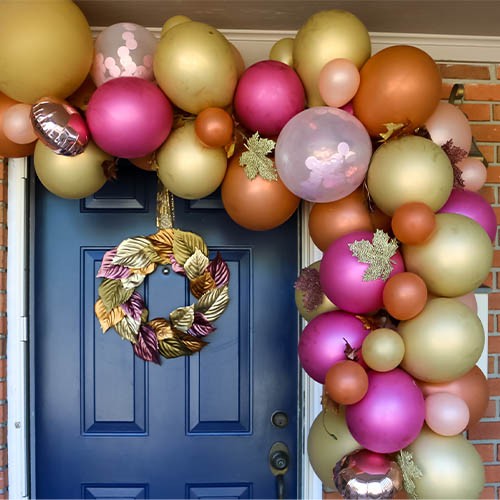 Once the balloons are inflated, thread the tied ends of the balloons through the holes in the included balloon tape. Skip holes as needed so you don't crowd the balloons too much. Be sure to vary the colors, sizes, and finishes of the balloons as you work your way down the length of the balloon tape.
Use lengths of monofilament (fishing line) to tie the garland above your front door. Use the glue dots that are included in the garland kit to fill in any gaps in the garland with the foil balloons and the smallest latex balloons.
Once the balloon garland looks full, tuck in fall embellishments like silk and glittery fall leaves that match the color scheme of the garland. Finish the look with a front door wreath, a welcoming doormat, and other fall décor.